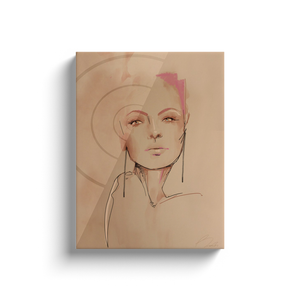 Bifur Canvas Print
"Bifur" alphabet designed by A M Cassandre. 
I painted simple watercolour "Natalie" and in my digital arts program in 2013 this was the digital representation of Natalie. Digitized, sexier and was my capstone project for my year. Learning the capabilities of a tablet, I drew over my analog girl giving her new life that she could take out into the night. My project was about how I could use the tablet to enhance my drawings and watercolour paintings.
I named her Bifur, check out the typeface mentioned above and see how good she matches. 
Drawing gorgeous women, I've always done it and love it!
Printed on high quality, artist grade stock and folded around a lightweight frame to give them a gorgeous, gallery ready appearance. With acid free ink that will last without fading or chipping, Features a scratch-resistant UV coating. Wipes clean easily with a damp cloth or to remove dust, vacuum gently using a soft brush attachment.
---