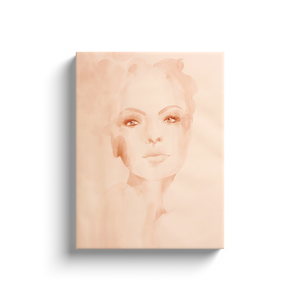 Natalie Canvas Print
Painted in 2013.
The majority of my work at the time was fashion illustration.
She is just so simple, just a few perfect brush strokes in a rose pink.
The most feminine thing I've ever created.
She hold a special place in my heart, no decoration just a beautiful woman.
Calm and lovely.
Around the time I painted this Black Swan came out with Natalie Portman in the lead role. I am not trying to replicate her face but use her as a muse in this piece. She has a rare grace and I adore her. That is why she is named Natalie. 
Originally a watercolour.
Printed on high quality, artist grade stock and folded around a lightweight frame to give them a gorgeous, gallery ready appearance. With acid free ink that will last without fading or chipping, Features a scratch-resistant UV coating. Wipes clean easily with a damp cloth or to remove dust, vacuum gently using a soft brush attachment.
---